WINE TASTING
APERITIVO
SAMPLING DINNER
WALK
TREKKING
COOKING CLASS
BEAUTY CARE
ORGANIC BEAUTY COSMETICS TASTING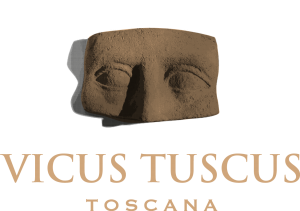 VICUS TUSCUS ORGANIC COSMETICS
Ancient beauty secrets live again in San Gimignano!
The organic anti-aging "Vicus Tuscus" cosmetics – which you can find and try at Torraccia di Chiusi" – have been formulated through the most advanced technology by using fresh herbs and flowers extracts, from both wild plants and plants cultivated with organic and nutraceutical methods.
They have been created with 100% organic certified ingredients; they are entirely free from silicone, petrolatum and parabens and cruelty-free.
Vicus Tuscus formulas contain only natural preservatives.
The precious active anti-aging substances and the high concentration of herbs extracts, make the Vicus Tuscus cosmetics highly effective, fresh and with a great skin tolerance capability. The herbs from which the ingredients are extracted are picked and used fresh, according to the "0 Km" philosophy.
Vicus Tuscus, in synergy with Torraccia di Chiusi, retraces the ancient traditions of Tuscany and the valuable customs of the ancient people who used to live here.
The valley where the Torracia di Chiusi is and the Vicus Tuscus works is on the Via Francigena and it has been populated since the Etruscan age.
Here the archaeological evidence confirms that this was right the ancient land of Etruria, described by the ancient historians as the richest in vegetation and variety of officinal plants.
The cosmetic line "Vicus Tuscus" takes its name from the Etruscan district of ancient Rome, next to the Forum – today it's Via San Teodoro al Velabro. During the Imperial Age, it has been the real "route of perfumers", due to its Etruscan laboratories that would produce customized beauty lotions and perfumes for the rich Roman matrons.
Vicus Tuscus organic certifications are released by IMC (Istituto Mediterraneo di Certificazione), BIOAGRICERT e ICEA.